DELPHOS — The Kiwanis Club of Delphos has been kicking around the idea of building a splash pad at Stadium Park for several years and it looks like those plans will come to fruition in the spring of 2017.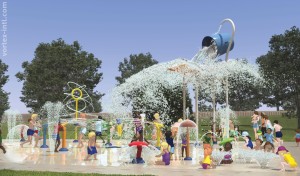 A splash pad is a recreation area for water play that has no standing water. Because of the zero-depth water play area, it can be operated without lifeguards or attendants. The splash pad provides endless hours of fun for the entire family. It combines the sensations of different water movements – flowing, misting and jetting
The projected cost of the nearly 4,000-square-foot splash pad with 29 unique water features is $350,000 with a targeted completion date for summer 2017. Innovative recirculation and capture and repurpose water management systems reduce water consumption.
Vortex Aquatic Structures International is recognized worldwide as a leader in the design of aquatic play structures and has designed and will be overseeing the installation of the project. The splash pad will be a self-contained stand-alone play area and will be incorporated as part of the existing swimming pool.
Unscripted free play encourages children to create their own experiences. The splash pad will bring people together of all ages and physical capabilities.
"The Splash Pad will be another fantastic attraction for the young people of Delphos. We want children to get outside and be active. The Splash Pad will not have any age restrictions, making it a fun activity for the whole family," Kiwanis Club president Jamey Wisher said.
This is the single largest and most aggressive project the club has undertaken. The club has the support of the city administration and the Parks & Recreation Department. The club has provided $25,000 seed money for the project from proceeds from fundraisers in 2015. The Arnold C. Dienstberger Foundation has awarded a grant of $50,000 towards the project as well as $40,000 from the Canal Days Committee.
Fundraising efforts have begun in earnest. Contributors to the project will be recognized on a permanent sign at the splash pad. Persons interested in contributing to the project can send donations to Delphos Kiwanis Club, Splash Pad Project, PO Box 173, Delphos OH 45833. Donations can also be dropped off to Cindy Metzger at First Federal Bank in Delphos. Online donations can be made by visiting delphoskiwanis.com. The Kiwanis Club of Delphos is a 501(c)3 organization.
To date, the Kiwanis Club of Delphos has installed four playground structures in Delphos and renovated the sand volleyball court at Stadium Park totalling approximately $250,000.