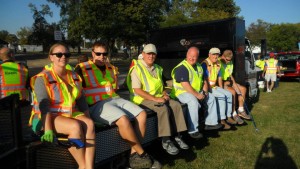 The Delphos Community probably knows our local Kiwanis club best by seeing the completed parks projects over the past 5 years.  In addition to the Delphos Stadium Park, Waterworks Park, Garfield Park, and recently the renovations to the Stadium Park Volleyball courts, there are many things our club sees that you may not see.
The Delphos Kiwanis Club also performs trash pick up, eyeglass programs, and sponsor numerous events and program in the community every year including:  The Delphos Public Library summer reading program, The Delphos Area Art Guild youth programs, both local schools proms and various events just to name a few.
Our goal continues to be to improve our community one child at a time.  We greatly appreciate the community support we receive each and every year during our annual events.  We look forward to seeing you again in 2014.
April 2014 – Annual Chicken BBQ
July 2014 – July 4th Celebration
September – Canal Days
September – Blood Screening
November – Pancake & Sausage Dinner
December – Hometown Christmas